Dorset PCC has car broken into in Boscombe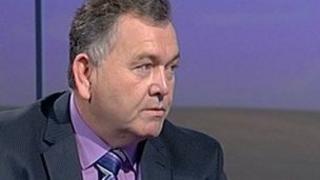 Dorset's police and crime commissioner (PCC) has had his car broken into while in a meeting about tackling crime.
A sat-nav unit was snatched through an open window of Martyn Underhill's car while it was parked at the Sovereign Centre in Boscombe.
He was meeting a councillor to discuss local crime issues at the time. The car is owned by Dorset Police.
Mr Underhill, who won the November's PCC election as an independent candidate, described it as "ironic".
He said he had accidently left the driver's window open by an inch, allowing a thief to force the window down and grab the sat nav from the windscreen.
Vehicle crime 'priority'
"We all know Boscombe does have a crime issue. The irony of this incident has not been lost on me," said Mr Underhill.
"This incident also raises awareness of vehicle crime in Dorset. We are working on reducing vehicle crime and it is one of the force's priorities."
He had been discussing his plans for a PCC "voluntary advocate" to work with community groups and official bodies to tackle crime in Boscombe.
Dorset Police said they were investigating a vehicle break-in in Boscombe on Monday between 11:15 and 13:55 BST and have appealed for witnesses.
The new PCCs, which replaced police authorities across England and Wales, now set spending plans and have the power to "hire and fire" chief constables.