Wrong postage on Weymouth Pavilion redundancy letters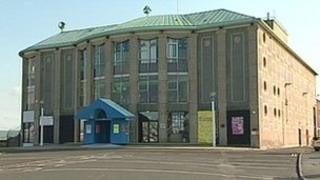 Staff losing their jobs at a theatre were asked to pay for their redundancy letters when the council sending them failed to pay the correct postage.
Weymouth and Portland Borough Council apologised after sending out 14 letters to staff working at Weymouth Pavilion.
Although a first class stamp was placed on each letter, it did not cover the total postage cost, so they were held at the sorting office by Royal Mail.
Instead of a letter, staff received a card asking for a £1.09 collection fee.
The Dorset theatre is due to close on 31 May.
'Difficult time'
Melanie Earnshaw, human resources manager at Weymouth and Portland Borough Council, said: "We very much regret that due to an administrative error some formal redundancy notice letters were held at the post office and did not reach staff before the Easter break as intended."
She said the authority had since apologised to staff, offered to reimburse them for any additional costs and sent out the redundancy letters by email.
"We recognise this is a very difficult time for anyone who works at Weymouth Pavilion and the borough council has been working hard to support staff and help them find alternative work," she added.
Although the theatre is set to close at the end of May, the running of the venue will go out to tender with a view to it being reopened as a community project.
The £1.09 collection charge on each letter included a £1 handling fee charged by the Royal Mail.