Dorset Police Marine Section 'saved' in cuts review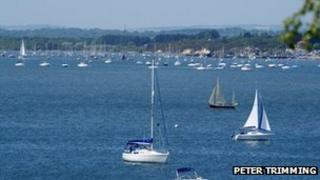 A specialist police unit, earmarked to be disbanded, has been saved as part of a review of coastal policing in Dorset.
Numbers of full-time officers in the Dorset Police Marine Section will be reduced as part of efforts to achieve £10m of budget savings by March 2015.
Police and crime commissioner (PCC) Martyn Underhill said more volunteer special constables would be deployed.
Poole Harbour Commissioners will also provide boats and crew for patrols along the Dorset coast.
As part of an agreement with the police, the harbour commissioners will cover the £50,000 costs of providing 1,600 boat hours a year to the police.
The police marine unit patrols the 89-mile (143km) length of the Dorset coast as well as responding to inland flooding emergencies.
'Reduced funding'
The unit's number of full-time constables will be reduced from four to two.
More than eight new marine special constables will be deployed.
Marine constables undertake sea survival training in addition to the standard special constable training.
Mr Underhill said the overall team would be "bigger and better than before".
"With 20% cuts imposed on us by the government we have to be realistic. We have had to cut the number of paid staff within the marine section, but have increased support with the introduction of marine special constables," he said.
Assistant Chief Constable James Vaughan said: "We have to make changes to the way in which we carry out some of our policing functions to ensure we continue to deliver the best service, with reduced funding."
He said they would explore further collaborations with other bodies including Hampshire Constabulary.
Poole harbour master Capt Brian Murphy said the decision not to disband the unit was "excellent news".