Poole lifting bridge closure criticised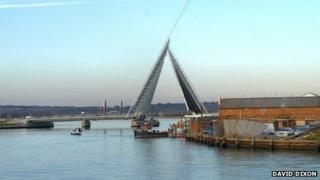 The closure of Poole's lifting bridge for repair work while another bridge in the town remains beset with breakdowns has been criticised by residents.
The lifting bridge closed for 10 days on Tuesday but the Twin Sails bridge broke down for 90 minutes in its "up" position with a hydraulic problem.
If neither bridge is working, motorists face a six-mile drive around Holes Bay to get to Poole.
The borough council said a contingency plan was in place.
The authority said The Twin Sails Bridge would operate to its normal lifting schedule, "albeit with a slightly slower lift speed".
Julian McLaughlin from the council said: "In light of recent operational issues, we are putting in place additional measures to ensure one crossing is available to road users in the event of the Twin Sails Bridge becoming unavailable.
"If this occurs, maintenance work will be temporarily suspended and Poole Bridge brought back into service as quickly as possible to reduce any delay to the public."
'No other exit'
Resident Anne Smeaton said: "We were thrilled to get the new [lifting] bridge but it's sad that it has all gone so very wrong.
"They've chosen to continue with the closure of the old bridge when they knew the new bridge was having problems.
"We have no other exit."
The lifting bridge, which links Poole port with Hamworthy, opened a year ago and lifts for mariners at half past the hour.
A Freedom of Information Act request by the BBC previously found the £37m structure closed 38 times in its first six months of being open.
Shortly after its officially opening, emergency resurfacing work had to take place when sections of the road fell off as the bridge was raised.
The sound of the bridge's lifting sirens also had to be lowered following complaints.