Fly-tippers cost Dorset taxpayers £10,000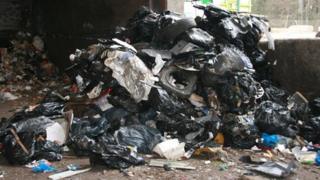 Work to clean up almost two tonnes of rubbish dumped on a Dorset roadside by fly-tippers has cost taxpayers £10,000.
It took workers five nights to clear the A338 stretch between Ashley Heath roundabout and Blackwater junction.
Car tyres and six televisions were among the 1.8 tonnes of rubbish dumped by fly-tippers, with about a third of the waste later sent for recycling.
Steve Burdis, director of Dorset Waste Partnership, said fly-tippers showed a "lack of care" for the environment.
Mr Burdis said: "We are committed to tackling the problem on other key routes, which are also in a poor state. But it would not cost as much if everyone took responsibility for their waste."
The partnership worked with Bournemouth Borough Council to clear the A338 and it is now working with neighbouring councils and the Highways Agency to clean up other routes, including the A31 and A35.
Larry Austin from the borough council urged anyone who witnessed fly-tipping to report the incident to their local authority.
"It is apparent that many people still have complete disregard for the way they dispose of litter and waste, meaning expensive costs for the taxpayer in clean-up fees and staff having to work in a dangerous environment," he said.