Student halls mark start of Bournemouth redevelopment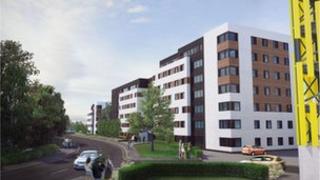 Work has begun on the first of a series of developments that, it is claimed, will "change the face" of Bournemouth.
Three student accommodation blocks are to be built on the council-owned car park in Madeira Road, along with a new multi-storey car park.
The site is one of 17 identified by the Bournemouth Development Company, a public-private partnership aimed at co-ordinating development in town.
A turf-cutting ceremony is due to take place later.
The partnership, between Bournemouth Borough Council and Morgan Sindall Investments, is co-ordinating a programme of works across the town which is expected to last 20 years.
The Madeira Road development, which backs onto Wessex Way, will provide accommodation for 378 students at the Arts University Bournemouth.
Work on a separate a five-storey block of flats on the site of a car park overlooking Horseshoe Common is also due to begin in the coming weeks.
The combined value of the two developments is £40m, according to the company.
A spokesman said the company would move the town away from "uncoordinated piecemeal development towards a more holistic approach for numerous parcels of land".
The majority of the sites identified by the partnership are surface car parks.