Comedian Tony Hancock's Bournemouth connections recalled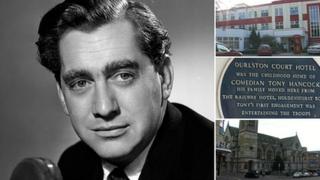 Forty-five years after he took his own life, comedian Tony Hancock is still regarded as one of the pioneers of British television comedy.
At its peak, his Hancock's Half Hour BBC TV show was a national institution - pubs emptied and shops shut early so people could get home to watch.
His childhood spent in Bournemouth provided the inspiration for his famous comedy routines and persona, and he is still revered in the seaside resort.
The Hancock family moved to the town in 1927 when Tony was just three and Bournemouth was part of Hampshire.
After working in a laundry and a pub, in 1933 his father John saw an exciting new opportunity for the family as they took over a hotel, renaming it the Durlston Court Hotel.
'Comedic ability'
John died days after the conversion work on the hotel finished in 1935, and there was more family tragedy when Tony's brother later went missing in action during World War II.
But current owner, and Hancock enthusiast, Ken Robbins explained how the young Tony "lapped up" meeting contemporary comedy greats including Max Miller who stayed at the hotel while they appeared in summer season.
He said: "He would have learned and absorbed their innate comedic ability, their knowledge, their jokes, their style and particularly their timing. He would have been learning his trade from the masters of the day."
The hotel also provided early inspiration for comedy in everyday situations which he was later to turn into such a trademark.
Mr Robbins explained how the young Tony would elaborate the daily staple of rather uninspired Brown Windsor Soup when typing out the lunch menus - creating new humorous titles including "Indian Goan Soup" or "Irish Peat Soup".
"He was using his flair as a comic writer. This was how Tony started to give out his capabilities in comedy."
The original typewriter he used is still held by the hotel.
The hotel was named after the private prep school Tony attended in nearby Swanage from 1936-38.
The original school building has been used as a venue for Tony Hancock Appreciation Society conventions.
Margery Dawson, who taught Tony Hancock at Durlston Court School recalled he was not an overt joker in class.
Speaking in 1986, she said: "Take the whole school and say 'which boy would become a comedian?', the last one you would think of was Tony Hancock, quite honestly."
Current head teacher David Warnsey said the school is "thrilled" by its association with the legendary comic.
"Because so many children here enjoy drama, the connection with one of the most famous actors and comedians of all time is very special."
Hancock's school records show he went from bottom of the form in his first year to being a prize-winning student in his last year.
He excelled at boxing and still holds the school cricket bowling record - taking 70 wickets for 300 runs in one season.
'Blue jokes'
He did appear in school theatrical productions and by the time he left was looking at doing more professional gigs, billed as "Anthony Hancock - The Confidential Comic".
However the gags he picked up in some of the town's rougher pubs did not go down well at his first stand-up performance at the Church of the Sacred Heart in 1940.
Current priest Father Bruce Barnes said Hancock decided to tell "a few blue jokes" to appeal to the servicemen in the audience.
"It was such a bad performance, the priest ordered him off and said if he had had his way, he'd also have the stage fumigated for future actors," he said.
It proved to be a turning point in his career as he turned to mentor, George Fairweather, a local music hall impresario who also ran a hairdresser's in the town centre.
Hancock took on board Fairweather's advice to drop the blue material. He taught him some of his favourite turns, including his impressions of famous actors of the day, Charles Laughton and George Arliss.
Under Fairweather's guidance, Hancock regularly trod the boards at Bournemouth's Theatre Royal and the Boscombe Hippodrome before getting his big break in BBC radio after World War II.
He eventually moved to London and went on to become one of the biggest figures in post-war British television and film comedy, before his depression and alcohol addiction eventually led to his suicide.
Listen to Tony Hancock from Bournemouth to East Cheam on BBC Radio Solent on Monday, 27 May at 12:00 BST and on BBC iPlayer.