Hope for Dorset wild asparagus pollination plan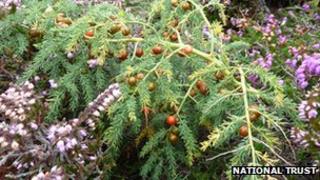 A plan to save wild asparagus in Dorset is likely to succeed, experts say.
A male wild asparagus plant was moved from Cornwall in 2006 to artificially pollinate what was thought to be the last female plant in Dorset.
The National Trust's David Bullock said the aim was to give nature "a helping hand".
The slow-growing seedlings which resulted are due to be checked for the mix of male and female plants necessary for the species to thrive.
Natural England, Dorset Wildlife Trust and the National Trust instigated the plan when the numbers of female plants in Dorset had fallen to a single one near Portland.
'Beautiful plant'
After hand pollination they obtained the seed from its fruit which was planted out in an effort to boost the local population.
Mr Bullock said: "We had to act and I'm optimistic about what we've done and it's likely to have been successful.
"This is one of the worst examples of decline in our wildlife, but also the best in what we're doing to rescue it.
"It's a beautiful plant and a symbol of what we need to do to save our precious biodiversity."
Loss of habitat and the spread of invasive species is thought to have caused the decline in numbers of the once plentiful wild asparagus.
It only grows in a handful of British counties including Glamorgan, Pembrokeshire, Cornwall and Dorset, and is classed as an "endangered" species by the International Union for Conservation of Nature (IUCN).
Wild asparagus grows on cliffs and sand dunes and has a more bitter taste than the cultivated vegetable.