Wimborne school coach crash: Driver died from 'brain injury'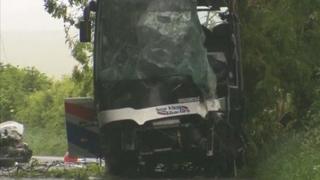 A woman killed in a collision with a school coach died from a traumatic brain injury, an inquest has heard.
Mini driver Sophie Crew, 23, from Wareham, died in hospital following the crash in Horton, Dorset, on Tuesday.
Twenty-six pupils of Queen Elizabeth's School in Wimborne were hurt, including many who suffered cuts and bruises.
The inquest was opened and adjourned. The coach company has said there was no indication their driver or the vehicle was at fault.
Sea View Coaches said no action has been taken against the driver who is expected to return to work shortly.
Seat belts
A spokesman for the firm said: "He's [the driver] had a day off. He's very shaken up, he can't believe he got out OK.
"[The] indication is we were not at fault."
The school said it was reviewing its bus provision with the county council in light of the incident.
The Sea View Coaches spokesman said safety on school buses has been an issue for some time with many children ignoring warnings to wear seat belts.
He added in this incident he believed many of the 45 pupils on board were not strapped in.
Dorset Police is investigating the crash and has appealed for witnesses.