New Blandford brewery badgers vandalised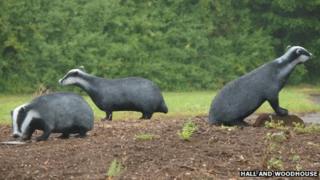 Sculptures of badgers created to mark the anniversary of a Dorset brewery have been vandalised.
They had been placed on a roundabout in Blandford in June, to mark Hall and Woodhouse's founding in 1777.
Dorset Police said two of the galvanized chicken-wire sculptures, by local artist Helen Godfrey, appeared to have been "partially squashed".
A brewery spokeswoman said it was "soul destroying" but they would be repaired and returned.