River Frome conservation work 'boosts fish numbers'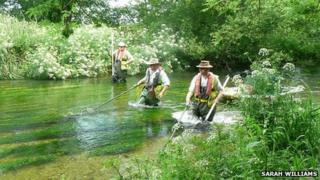 Fish numbers in a Dorset river have risen "significantly", according to a wildlife survey.
Dorset Wildlife Trust's Wild Rivers Project found the fish population in a stretch of the River Frome rose after habitat improvement work last year.
Overall, 12.2 brown trout, grayling, salmon, pike and eels were recorded per 100 sq m, compared with 7.3 in 2012.
The trust said the rise was "extremely important to the sustainability of the river and its future biodiversity".
Eels made up 50% of the survey catch, with numbers rising from 4.6 fish per 100 sq m to 6.1.
Grayling numbers showed the biggest increase from 0.3 fish per 100 sq m to 2.9.
The work on a section of the river at Lower Brockhampton included narrowing 150m (500ft) of river by creating "willow mattresses", which help to provide a natural habitat for eels to flourish.
The narrowing process also increased the speed of the flowing water, which the trust said makes conditions ideal for fish to reproduce and encourages other river wildlife.