New fire at Studland heath on Dorset coast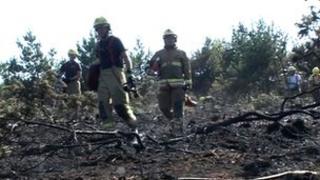 Firefighters have returned to an area of heathland on the Dorset coast to tackle another blaze.
About one hectare (2.5 acres) of gorse and trees in Studland was destroyed by fire on Monday afternoon.
About 12 firefighters were called back to tackle a second blaze on Tuesday afternoon but it was brought under control within two hours.
Earlier landowners the National Trust said it could take up to 30 years for the wildlife habitat to recover.
About 60 firefighters were drafted in to tackle Monday's blaze, off Ferry Road near the Knoll House Hotel.
Speaking after the initial fire, National Trust spokesman Jon Bish said it was fortunate the emergency services had been alerted quickly.
'Important habitat'
He said: "It's too early to say at the moment quite what the effect will be on wildlife but heathland, by definition, does take a long time to recover from an incident like this.
"It could be up to 30 years before it reaches it's full potential again.
"This is a very important habitat and it's very precious to a lot of species and a lot of people."
He appealed to people to contact the emergency services if they see any suspicious activity on the heathland and to be "very vigilant" as the hot weather continues.
Craig Baker, of Dorset Fire and Rescue, said they were looking at the cause of the first fire but believed it was deliberate.
Crews were called at about 13:30 BST on Monday and some emergency vehicles were transported to the peninsula on the Sandbanks chain ferry.
Firefighters wearing protective clothing battled the blaze in temperatures of up to 30C - one was taken to hospital suffering from the effects of the heat.
The fire was out by 16:30 BST but crews remained at the scene into the evening, damping down.
The area, visible from Bournemouth, is a site of Special Scientific Interest.