Fly-tipping closes Hurn recycling bank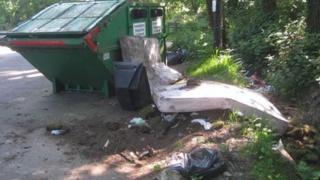 A recycling bank in Dorset is being closed because the site has become an "unsightly dumping ground".
Dorset Waste Partnership will remove the bank at Avon Causeway, Hurn, on 1 August.
Margaret Phipps, chair of Hurn Parish Council, said: "Removal of the bank is now the only option to stop it for good."
Dorset County Council installed cameras to catch the tippers but they were stolen.
Planting trees to screen the site also had little effect, the council said.
Residents have repeatedly complained to the council about discarded items including washing machines, mattresses, builders' rubble and tyres.
The bank is intended for plastic bottles, cardboard and glass.
Ms Phipps said: "The problem has become increasingly urgent, with the area attracting more and more waste daily."