Men rescued in Weymouth Bay after watercraft sinks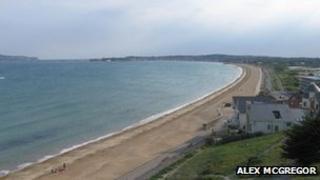 Two men were left clinging to a buoy after their personal watercraft sank off Dorset.
One of them made a 999 call but could only tell the coastguard they were holding on to an orange buoy in Weymouth Bay before his phone cut out.
Rescuers used their knowledge of the area and managed to locate the pair quickly on Wednesday afternoon almost a mile off the coast.
They were picked up by a lifeboat crew and taken ashore unharmed.
The partially sunk personal watercraft was later recovered.