Dorset East Cliff has 'dangerous overhang' after large landslip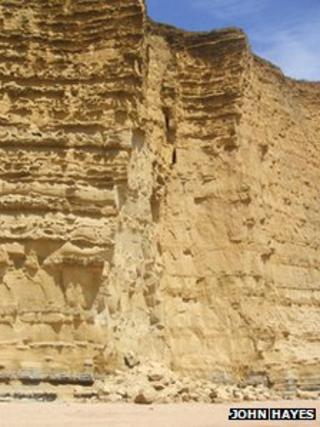 A "large" landslip has occurred on a stretch of Dorset coast near to where a young woman died in a cliff collapse.
West Dorset Lifeguards reported a "dangerous overhang" of the cliff top in East Cliff, between West Bay and Freshwater.
Portland Coastguard said the landslip was about 1,470ft (450m) from where Charlotte Blackman was killed at Burton Bradstock last year.
The beach has been closed and warning signs have been put up.
Safety warning
The Dorset Countryside Coastal Ranger Team expressed concern that people were not aware of the dangers of sunbathing at the base of the cliffs.
Senior ranger John Hayes said he arrived before the beach was closed off and saw a young girl "playing in one of the fissures at the base of the cliff with 60 metres (190ft) of rock above her head and her parents watching on".
Mike Branagan, from Portland Coastguards, said: "People should be aware of the cliffs and not linger underneath them".
In July 2012 Charlotte Blackman, 22, of Heanor, Derbyshire, died in the Burton Bradstock landslip.
Witnesses said she had been seen walking directly under the cliff moments before it collapsed.