Radipole Lake swan death illness 'is not bird flu'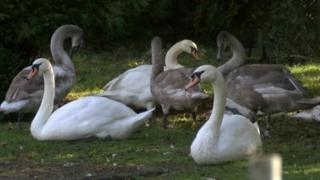 Tests on 14 mute swans which died of a "mystery" illness at a wetland reserve in Dorset have not revealed what killed them, but show it was not bird flu.
The RSPB said another two swans taken ill at Radipole Lake in Weymouth had been treated and were recovering at West Hatch Animal Centre in Somerset.
Spokesman Tony Whitehead said it was possible "the birds simply succumbed to a naturally occurring pathogen".
The illness began six weeks ago but now appears to have subsided, he said.
Half the swan herd at the lake had been affected by illness.
Mr Whitehead said: "Sixteen birds have been affected to date, 10 found dead on the reserve and six collected alive by RSPCA and taken to West Hatch, where four subsequently died.
"The RSPB informed neighbouring nature reserves - including the swannery at Abbotsbury - but there are no reports from elsewhere of the same thing happening.
"We haven't had any birds affected over the past couple of weeks - so it is quite contained.
"Two of the swans that died at RSPCA West Hatch were sent for analysis at the Animal Health and Veterinary Laboratories Agency (AHVLA).
No further tests
"The post-mortem results are inconclusive. The birds have tested negative for avian influenza.
"One had a slightly raised level of lead, but fractionally above and not likely to have been cause of death.
"It is possible that the birds simply succumbed to a naturally occurring pathogen.
"Avian botulism for instance is known to kill thousands of birds, particularly after spells of warm weather.
"However it is difficult to establish botulism post-mortem as the toxins are often no longer in the system.
"As no affected swans have been found over the past two weeks, and the problem was restricted to one site only, no further action will be taken beyond continued vigilance regarding the remaining swans on site."
Mr Whitehead said anyone who finds a dead or sick swans at Radipole Lake should telephone the site wardens on 01305 778313.
The Environment Agency (EA) taken water samples to test for pollutants but the results are not yet known.