'Good graffiti' walls set up in Dorset towns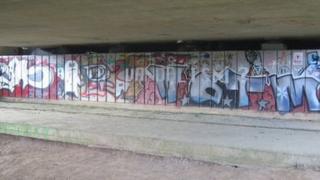 Graffiti artists are being encouraged to spray or paint specially designated walls in parts of Dorset.
West Dorset District Council hopes the "good graffiti" project will reduce vandalism and damage caused by "unsightly" graffiti.
Chairman Gillian Summers said: "There are many tags disfiguring buildings but there's talent that could be recognised if it was in the right place."
The walls are in Dorchester, Sherborne and Bridport.
They will display the project's logo so those wanting to produce the art can do so in locations the council deems "appropriate".
'Not your turf'
Ms Summers cites the art under the bypass in Bridport, on the footpath to West Bay, as "good graffiti".
"It's been there so long that it's become part of the scenery and become accepted as a piece of interesting artwork," she said.
"Good graffiti shows talent and is artistic and if it were in the right place it could be regarded as such, but in the wrong place it can damage people's property or work."
Stuart Taylor, director of Graffiti Workshop, which runs graffiti courses, said the scheme was a good idea.
"Artists will want to produce work where it's noteworthy, and converge to create work without the fear of doing something illegally," he said.
"The 'this is my turf, not your turf' thing doesn't have the same appeal as it did back in the '80s and '90s.
"Children are doing urban arts programmes, they're studying Banksy, and educational centres can see there's a learning component in it that children can learn.
"The art form has grown up."