Weymouth play centre's 'fluffy' polar bear statue stolen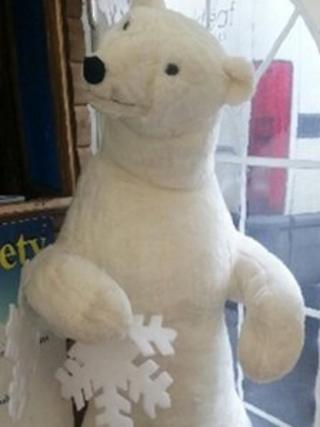 A "fluffy" polar bear statue has been stolen from a children's play centre in Dorset.
The 6ft-tall (1.8m) bear was taken from inside the temporary ice rink at the Family Fun Factory, in Weymouth, on Saturday afternoon.
It has been at the centre since it opened about four years ago.
Owner Andy Reynolds said: "It's really quite low of someone to steal him from a children's play centre." Dorset Police is investigating.
Mr Reynolds said he originally thought it had been taken as a prank and would be "held for ransom".
He added he was "absolutely devastated" that it had been taken and said it would cost about £400 to replace.
"It's not the sort of thing you could just stick in a bag and forget about - someone's got the know where it is."
Dorset Police said no arrests had been made.