Dorset men get blaze bravery awards after tanker fire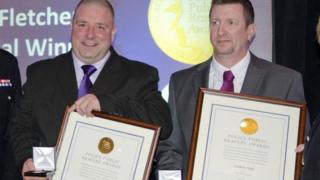 A man who helped put out a major fire after a tanker was driven into a bungalow, has said he didn't realise the danger he was in at the time.
Darren Fletcher from Wareham was one of two Dorset men who leapt into action after the incident in 2012.
Mr Fletcher and Andy Neal have now been recognised for their actions at the National Police Public Bravery Awards.
Both men were "on a school run they'll never forget" with their children when they witnessed the incident.
'Silly' actions
Lorry driver Hugh Billington deliberately rammed the fuel tanker loaded with 2,000 litres of kerosene into the front of his family home in Wool.
"It didn't really dawn on me at all until I was sat in hospital with a mask on my face," said Mr Fletcher, who also climbed into the tanker cab and reversed it out of the property in a bid to prevent it exploding.
He also put the blaze in the cab out.
"Obviously then my girlfriend and mum came to visit me and gave me a good telling off and made me realise how silly it was.
"But at the time, no [I didn't think]."
Mr Fletcher, 36, had also previously received the Royal Humane Society's Bronze Medal.
Mr Neal, 44, from Bovington was also recognised with the Testimonial on Vellum award.
"As we came into Folly Lane you could see the tanker in the front of the house. I thought maybe the driver had had a heart attack or whatever," said Mr Neal.
'World's worst hosepipe'
"I got out of the car, told the kids to stay put and ran round to the front of the house.
"I called out but I couldn't hear anybody responding, all that was there was a dog. He was standing there shivering so I passed him over the fence.
"I then went back in and tried to fight the fire with the world's worse hosepipe."
In January 2012, Billington opened the valves of the tanker and doused the hallway with oil before igniting it, causing flames and thick smoke to flood the property.
Fortunately, his wife, the only occupant at the time of the collision, managed to escape uninjured, although both Mr Fletcher and Mr Neal were unaware of this at the time.
Billington later pleaded guilty to arson at Dorchester Crown Court and was sentenced to seven years in prison but died from an illness a few months later.