HMP Portland to become 'resettlement prison'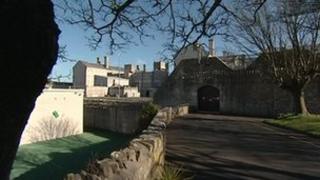 A young offenders institution in Dorset will become a so-called "resettlement jail", Justice Secretary Chris Grayling has confirmed.
The decision for HMP Portland follows the announcement to close HMP Dorchester, which was originally earmarked as one of 70 such jails.
Offenders will be moved to a resettlement prison near to where they live before being released.
Steve Hodson, deputy governor at HMP Portland, said it was "excellent news".
'Greater support'
Dorset Police and Crime Commissioner Martyn Underhill said the resettlement jail would help tackle reoffending.
Mr Underhill, who lobbied government for clarity on future resettlement arrangements for Dorset, said it meant prison staff would be able to "focus on rehabilitation into the local community".
He added it was a "significant step forward" in tackling reoffending and would offer greater support to offenders.
"Being close to a family support network is vital for any prisoner trying to turn their life around," he said.
A trial of the new system is planned in north-west England later this year.
Mr Grayling announced the closure of Dorchester, Reading, Blundeston and Northallerton prisons in July.
HMP Reading closed on Friday. The others are expected to shut by March next year.
The government said the closures would reduce the prison budget by £30m a year.