Sergio Retamar Marquez killing: Karl Addo detained for life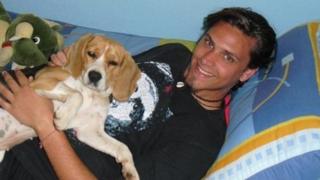 A man with paranoid schizophrenia has been detained for life at Broadmoor for stabbing and decapitating his flatmate.
Karl Addo admitted the manslaughter of student Sergio Retamar Marquez on the grounds of diminished responsibility.
He killed the 23-year-old Spaniard at their flat in Bournemouth in July 2012.
Sentencing the 30-year-old to a minimum tariff of six-and-a-half years, Mr Justice Burnett told Addo he was "dangerous" and might never be released due to his illness.
Special powers
He explained that Addo would serve the minimum term, but he also imposed an indefinite restriction under the Mental Health Act.
"The result of the sentence I have imposed is that the public now has the double protection provided by the Mental Health Act and the involvement of the parole board," he said.
Addo shared the Lansdowne Road flat with Mr Marquez, from Coin near Malaga, and two other flatmates.
The court heard that Addo had suffered years of mental illness which led him to believe he was being assaulted by gangs with special powers and had been injected with drugs.
He believed that Mr Marquez, a hotel waiter, was part of the gang and that he wanted to kill and torture him.
'Terribly mutilated'
Fearing for his life, the court heard Addo snapped on 17 July, the day he had been evicted by his landlord and told to leave the flat.
He hit Mr Marquez with a cleaver and stabbed him in what was a "prolonged, horrific and very violent attack and his body was terribly mutilated", Nigel Pascoe QC told the court.
Several doctors assessed Addo as being profoundly mentally ill.
He mutilated the body of Mr Marquez to stop him recovering from his injuries, the court heard.
Jurors were told a neighbour had heard the words: "Please Karl, please Karl", before hearing the sound of furniture being dragged and laughter, followed by silence.
The judge said the "brutal killing" had had a profound and lasting impact upon Mr Marquez's family.
His mother, Maria Carmen Marquez Torres, said her son had "such a beautiful life".
"He wanted to be a father and have three children, and the thought of this filled him with excitement.
"Sergio had everything: he was handsome, happy, kind, healthy, responsible, fun, and polite.
"He is a person that is impossible to replace."