Purbeck Isle fisherman's mother calls for lifejacket law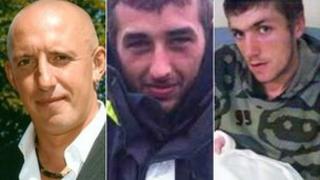 The mother of a fisherman who died when the boat he was working on sank has said the compulsory wearing of lifejackets "should be made law".
Robert Prowse, 20, was one of three men who died when the fishing boat, Purbeck Isle, sank off Dorset in May 2012.
An investigation found the boat sank so quickly, the crew were unable to don lifejackets before they went overboard.
Maxine Prowse said it should be "same as the seat belt law [and illegal] to leave harbour without a lifejacket on".
David McFarlane, 35, and Jack Craig, 21, also died after the boat sank. Their bodies were later recovered but Mr Prowse's body has never been found.
A Marine Accident Investigation Branch report said an incorrectly-stowed life raft failed when the vessel sank.
The report also said the crew were unable to broadcast a mayday call or collect their lifejackets before they went overboard.
An inquest in October found their deaths were accidental.
'Prepared for the worst'
Mrs Prowse said the problem was that fishermen "think that it will never happen to them".
"It needs to be made law that they cannot leave the harbour without a lifejacket on."
The Maritime and Coastguard Agency (MCA) recommends that commercial fishermen wear a lifejacket or buoyancy aid at all times whilst on deck.
A statement said the UK Fishing Federations had received European Fisheries Funding for free personal flotation devices (PFDs) to over 7,000 UK fishermen.
"The process of giving these to fishermen is ongoing. This would not be possible if PFDs were a mandatory requirement," it added.
It said the Fishing Industry Safety Group agreed the mandatory route would be reconsidered if the non-regulatory steps did not have the "desired effect" on behaviour.
About 20 lives are lost in the fishing industry in the UK and Ireland each year, according to the RNLI.
The organisation said many fisherman do not wear a lifejacket on deck because they are bulky and can be a dangerous snagging hazard in the fishing environment.
RNLI fishing safety co-ordinator Frankie Horne said: "We've got to get it safer so that if the worst does happen, we're prepared for it."