Hengistbury Head visitor centre officially opened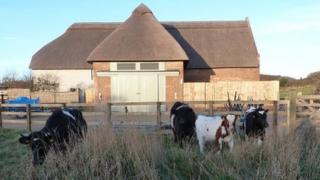 A new £1m visitor centre, built with a grass roof and walls insulated with straw, has been opened at a Dorset coastal nature reserve.
The centre at Hengistbury Head near Christchurch has been built on to an existing thatched barn.
An exhibition about the area's Stone Age past and a wildlife garden have been added.
Bournemouth Borough Council's Lawrence Williams described the centre as a "fantastic resource for the area".
The sandstone headland of Hengistbury Head, to the east of Bournemouth, forms part of Christchurch Harbour and incorporates prehistoric earth works and evidence of human occupation dating back to 10,500BC.
A collection of archaeological items is being archived by Bournemouth and Oxford Universities, along with with the Russell-Cotes Museum before it is transferred back to the centre.
It will also house an education centre and space for community groups such as the Hengistbury Head Supporters Group, Hengistbury Residents' Association and Christchurch Harbour Ornithological Group.
The centre was funded with £300,000 from developer contributions, £432,000 from the Heritage Lottery Fund and £300,000 from landfill tax.
Bournemouth Borough Council claimed solar panels on the building would save about £1,000 a year on electricity.
Other energy-saving features include a green roof to absorb rainfall and provide insulation and timber-framed walls insulated with straw bales.
Mr Williams said: "For the first time, we will have a unique and dedicated visitor centre where members of the public will be able to come and learn about the area's rich heritage, including the wildlife, geology and archaeology."