Dorset flood warnings remain as high tides return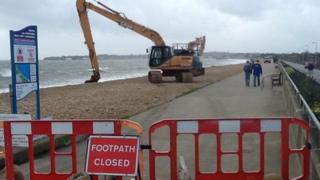 Coastal communities are braced for more disruption as severe flood warnings remain in force in Dorset.
Forecasted high tides were set to affect coastal areas overnight and on Saturday and Sunday.
Warnings were issued for the lower River Stour, Preston Beach in Weymouth and Chiswell, between Portland and Wyke Regis.
The Environment Agency has urged people to avoid coastal paths and promenades and not to drive through floodwater.
Residents in Chiswell Beach on Portland were on standby during high tide after being told a siren would sound requiring residents to evacuate their properties.
Dorset Police has warned people not to make "unnecessary journeys".
High tide for Chiswell and Preston Beach was forcecast for 19:45 GMT on Friday.
Severe flood warnings were to remain in force for up to three hours after high tide.
High tides mean water levels remain high on the River Stour around Iford Bridge Home Park, near Christchurch, which was evacuated on Thursday.
Staff from Bournemouth Borough Council assisted with the operation helping six households find alternative accommodation in a local hotel.
The park was also evacuated following flooding on Christmas Day.
Councillor Lawrence Williams said: "The water this time hasn't quite reached those levels, but it has been rising, so it's been difficult to assess the full extent of the damage immediately.
"Sandbags were distributed to local housing and those who needed to be relocated were found a place to stay."