Dorset Wildlife Trust concerned for animals during storms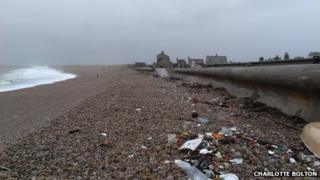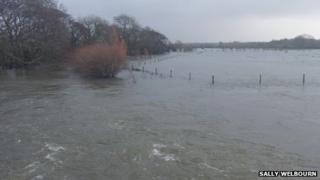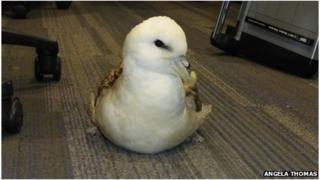 Concern is growing for the welfare of wildlife affected by the severe winds, rain and high tides that have battered the Dorset coastline in recent weeks.
Seabirds such as Razorbills, Fulmars and Shags have been found stranded on Chesil Beach and at Kimmeridge after becoming exhausted and dehydrated.
Dorset Wildlife Trust (DWT) said storms had also washed up large amounts of potentially deadly litter onto beaches.
Overflowing rivers may also have affected the water vole populations.
'Entangled animals'
Julie Hatcher, from the DWT, said: "The weather conditions will make it hard for birds that live and feed around the coast, and there's a risk they could become weak from not being able to feed properly.
"The biggest concern is that seabirds will become dehydrated, as their intake of water comes from the food they eat."
Marc Smith, officer at DWT's Chesil Beach centre, said: "Litter such as plastic bags, drinks cans and glass can be deadly to wildlife.
"The waves have been coming over the top of the pebble bank at Chesil Beach, and whilst some of the litter churned up will go back into the sea, Chesil Beach is 18 miles long, which is potentially a lot of litter.
"Our main concern is for animals getting entangled in plastic or ingesting litter."
Persistent rain has also caused the Frome and Stour rivers to overflow.
Sarah Williams, Dorset Wild Rivers Project coordinator, said: "High flowing rivers will allow migratory species such as salmon to swim further up the river to breed, which will mean good news for breeding numbers, as long as the their nests do not get damaged by the flows.
"Wildfowl and wading birds will also enjoy feeding on larger wetland areas, where they will find fish and invertebrates near the surface.
"Wildlife needs space to move away from the flood and natural floodplains do provide some relief, but it is particularly important for water voles to be able to move away from the main flood water.
"The population of water voles this year will indicate how badly this flooding has affected them."
The DWT is planning various beach-clean events and has urged anyone who comes across an injured bird or any other animal in distress to phone the RSPCA.