Oakdale and Creekmoor in Poole chosen as traveller sites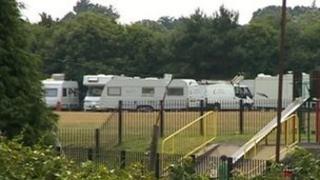 Two areas have been chosen for new temporary Gypsy and traveller sites in Poole.
Councillors voted in favour of the plans for Oakdale and Creekmoor at a borough council emergency meeting.
A full council meeting over the plans was recommended by the cabinet on 14 January because it said "the decision was of such public importance".
Separate planning applications are set to be submitted in the next two weeks and the sites could open by the summer.
The two sites - near the B&Q car park in Oakdale and at Marshes End in Creekmoor - were shortlisted from 90 sites in Poole.
Creekmoor ward councillor Judy Butt said the Creekmoor site was contaminated with asbestos and methane and was on a flood plain which "could very well put the Gypsy and traveller community in danger".
'Dangerous road'
"It's also on the most dangerous road we have," she added.
She said access to the site would be "difficult" and added it could also affect access to the nearby fire station.
Poole currently has one residential site at Mannings Heath, but no permanent or temporary transit sites.
Temporary sites are authorised as stopping places for up to 28 days between Easter and 1 September.
Dorset's Police and Crime Commissioner, Martyn Underhill, said a temporary site "enhances the powers" the police can use to deal with unauthorised camping.
Councillor Mike White, deputy leader and cabinet portfolio holder for planning, said: "Poole experiences a number of unauthorised encampments each year which do cause public concern.
"Therefore, we need to effectively manage the situation and meet the needs of both our local communities and the travellers.
"We are finding it increasingly difficult to identify a permanent transit site in Poole and so one or two temporary stopping places in the borough should help manage the situation and provide a suitable site when we require the intervention of the police."
There have been about 13 unauthorised encampments in Poole since April last year, according to the council.
An independent assessment found that 150 additional Gypsy and traveller pitches were required in the county from now until 2028, with 18 needed in Poole.