Portland severe flood warning eased after storm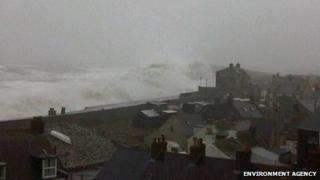 A severe flood warning for part of Dorset has been eased with residents escaping major disruption.
People in Chiswell in the Isle of Portland were told to stay upstairs and be ready to evacuate as storms hit during Saturday and overnight.
Jackie Breakspear, of the Cove House Inn, said her pub was "holding its own" and she had "battened down" for more predicted storms this week.
Numerous flood warnings and alerts are still in place across Dorset.
Ms Breakspear added: "Everything was fine in the end. It was noisy with the waves hitting the wall outside, but the pub is holding its own.
"We already moved our furniture upstairs and battened down every window.
"The worst thing is for businesses... people aren't coming across so we're all suffering."
An army compound has been set up near the village with about 30 troops, five bulldozers and three excavators to shore up sea defences.
The Environment Agency has also started urgent work to replenish Preston beach to the east of Weymouth.
Pounding waves over the last few weeks have washed away a significant amount of shingle which acts as a buffer.