Marshwood pub and shop offered for sale as 'community assets'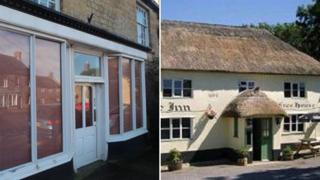 A Dorset pub and shop are being offered for sale to community groups under legislation to protect local assets.
Broadwindsor Stores and the Bottle Inn at Marshwood, near Bridport, are listed as "assets of community value" under the Localism Act 2011.
Qualifying groups have until mid-March to register their interest in either business before they are offered on general sale.
Legislation means groups get extra time to develop a bid and raise money.
Councillor Robert Gould, leader of West Dorset District Council, which has listed the properties as assets, said they were recognised "as places that have an important role in local life".
If a community group notifies its intention to bid this triggers a pause of up to six months to enable it to raise funds and bid to buy the asset.
However, the council said this does not mean it gets a right of first refusal or has the opportunity to buy it at below market value.
If the district council does not receive a notice of intention to bid, the landowner is free to dispose of the assets.