Chesil Beach storm debris: 'Not enough being done'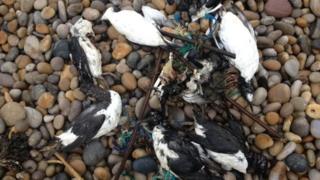 Volunteers clearing storm debris from a Dorset beach say not enough is being done to remove dead birds and a "foul smelling" substance from the shore.
Hundreds of birds have been washed up on Chesil Beach, between Portland and Weymouth, along with lumps of what is thought to be vegetable or palm oil.
The landowner, the Crown Estate, said it was working with local organisations to "find an appropriate solution".
Dorset Waste Partnership said it had "limited resources" to assist.
Blogger Izzy Imset has been involved with three major beach cleans at Chesil since the storms first hit last month.
"It's always volunteers instead of anyone official doing it," he said. "Everyone wants to pass the buck when it comes to who is responsible."
Dorset Waste Partnership said it had provided a refuse collection vehicle and recycling bins to help with recent beach cleans.
But, the organisation added, responsibility for clearing the beach ultimately fell to the Crown Estate, which, it said, had been assisting.
A spokesman for the Crown Estate said: "We are assessing the situation and will work with other local organisations to find an appropriate solution to clear the waste from Chesil Beach."
He added the estate recognised the impact marine litter could have on coastal communities and said it supported a range of UK initiatives designed to tackle the problem of marine litter through its Marine Stewardship Fund.
Dorset Wildlife Trust said some of the birds, including razorbills and guillemots, were covered in oil.
It has urged anyone who finds dead or injured birds not to handle them but to contact the Chesil Beach Centre or the RSPCA instead.
'Toilet stench'
The lumps of oil, described by Mr Imset as "boulder-sized", have not been officially identified but he said volunteers had sent samples to the Maritime and Coastguard Agency (MCA) for identification.
"They cause a stench like a toilet that's not been cleaned for six months," he added.
The MCA said it was not linking the deaths of the birds to the oil substance but to storms in the Atlantic that had made it difficult for some species to feed.
The agency added there were guidelines for tankers discharging palm oil at sea, which forbid the substance being expelled from a vessel while it is fewer than 12 nautical miles from land.
"If we got evidence to suggest that guidelines were being breached, we have got the powers to investigate," a spokesman said.
Palm oil is not harmful to humans but can cause injury or death to pets, particularly dogs, if ingested.
Henrietta Harrison, from Public Health England, said it had not been contacted with queries about materials on Chesil Beach.
But she added: "The agency would always advise beach users to keep themselves and their animals away from unidentifiable material washed up on any beach."
Another volunteer-led beach clean has been organised at Chesil on Sunday.