Hundreds sign petition to save Sherborne police station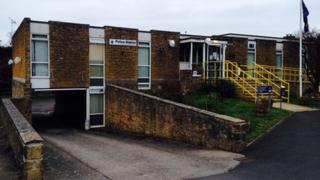 A petition with nearly 800 signatures has been handed to Dorset Police urging it not to close Sherborne station's inquiry desk.
The force plans to close the front counter desks at rural stations as part of a bid to save £8.7m by April 2016.
One full-time inquiry desk will be retained in the north of the county, although it has not yet been decided where.
Desks will also be kept in Bournemouth and Weymouth.
Dorset Police said it would not mean fewer police officers in areas losing front desk services and would not mean entire stations closing.
West Dorset councillor Chris Loder, who is leading the campaign, said: "This petition is a ringing endorsement that we value the police station desk and that the rural areas expect this basic service for our precept contribution."
Chief Constable Debbie Simpson said no final decisions had been made regarding station desk provision.
"Difficult decisions are needed and it's important that we spend time thoroughly reviewing the many different suggestions that we have received," she said.