Kuwaiti student, Mashael Albasman, was stabbed to death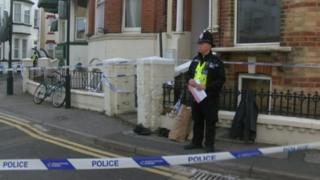 A woman found dead in a Bournemouth flat was stabbed to death, an inquest has heard.
The body of Kuwaiti student Mashael Albasman, 25, was found on Sunday in a first-floor flat at a property on St Michael's Road.
An inquest which was opened and adjourned in Bournemouth earlier, heard the cause of death was stab wounds.
A man, 58, who was at the property, has been arrested on suspicion of murder and remains in custody.
Police were called to what they described as a "serious incident" shortly after noon on Sunday.
The man was known to the victim, said police, and suffered injuries that later needed hospital treatment.