Mary Quant 'student' sketchbook auctioned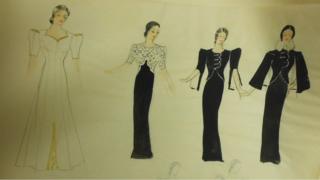 A sketchbook by fashion designer Mary Quant has been sold at auction for over five-times its estimated price.
The 20-page book, containing designs for dresses and printed fabrics, sold for £1,037 at Duke's of Dorchester.
It was estimated to fetch between £100 and £200. It was purchased by a private collector from Dorset.
The book, which Ms Quant reportedly hurled at college lecturer Alfred Page during a row, is believed to be from her early years as a student.
It was sold by Mr Page's granddaughter.
Auctioneer and valuer Amy Brenan said the auction house was "thrilled" with the final result.
'Icon of the 1960s'
"As none of her designs have recently come up for auction, it was difficult to say how much it could make especially considering that none of the sketches were signed.
"However, Quant really was an icon of the 1960s and to those that grew up at this time and are now retired and looking to invest, this album provided the perfect opportunity for them."
Ms Brenan said it was not yet known if the new owner will split the album up and frame the designs or keep it together.
Ms Quant, 80, is widely regarded as the creator of key 1960s' fashions including the miniskirt and hot pants.
Duke's said the current owner of the book believed Mary Quant, who was a student at Goldsmiths College in London, showed one of the fabric designs to her friend, Mr Page, a Royal College of Art printing lecturer.
Having received a critical response, Ms Quant reportedly threw the book at Mr Page and never returned to collect it.
The sketches are believed to have been made early in Ms Quant's career because one depicts a box of Icilma face cream with floral design packaging which came into being the 1940s.
Mr Brenan said: "Previously, the face cream had been in a jar. This means that these sketches are likely to have been done by Quant in her early years as a student, before she became famous, making them quite significant."