Egg-shaped beach hut design for storm-hit Studland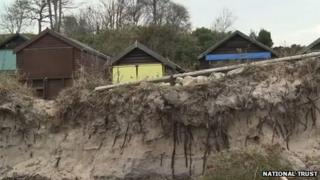 Egg and ball-shaped beach huts have been put forward as possible designs for "storm-proof" huts in Dorset.
Students at Arts University Bournemouth designed the huts for Studland Beach as part of a National Trust project.
The trust said the winning design, which will be selected over the summer, was likely to be for a hut that can be relocated easily.
It said winter storms had left many of the beach's 275 huts "perilously close" to the shoreline.
The trust, which owns the beach, said some of the huts had moved further inland, up to three times, because of the "constantly changing coastline" which in February led to a footpath being washed away.
Elli MacDonald, from the trust, said recent storms were "a reminder of how vulnerable the Studland peninsula is to extreme weather".
She said beach huts were "an important part of the special character of the British coastline" and added it was important to preserve them for future generations.
The project is part of a larger National Trust scheme aimed at safeguarding the coastline against storms and high tides.