Bournemouth cycling restriction lifting 'a stupid idea'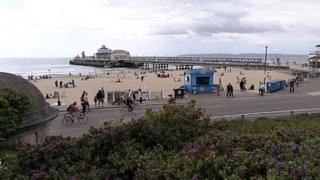 A plan to lift cycling restrictions in Bournemouth has met with a mixed reaction from residents.
Some say the trial plan to ride through the pedestrianised Bournemouth Square and across Pier Approach would work if cycle lanes were painted on the paths.
But others say mixing bicycles with people walking is a "stupid idea", with "reduced safety" for pedestrians.
Latest government figures show Bournemouth has the third highest cyclist casualty rate outside London.
Bournemouth Borough Council's transport project manager Richard Pinnegar said they wanted to become a bike-friendly town and similar schemes had been successfully trialled elsewhere.
'Stupid idea'
Bournemouth cycling coach Jason Falconer said he was "all for" the trial saying "I believe in shared spaces".
Resident Robert Aldous said it was "a great idea" if there are "simple lines painted onto the promenade paths".
Among the negative comments posted on BBC South Today's Facebook page concerned safety.
Libby Griggs said: "My dog was hit and my toddler narrowly missed by a cyclist last year due to the rider's complete disregard for others!"
Malcolm Bott said as they were pedestrian areas there was "zero improvement in safety for cyclists and reduced safety for pedestrians".
Anthony Dyche said it was "a stupid idea" to let people ride in front of the pier entrance during the busy summer.
Latest Department for Transport figures show that, outside London, Bournemouth had one of the highest cycling accident rates per million population in the country.
In 2012 Bournemouth had 803 cycling accidents per million, behind Kingston-upon-Hull with 816 per million and Portsmouth with 832 per million.