Cash approved to secure unauthorised Poole traveller sites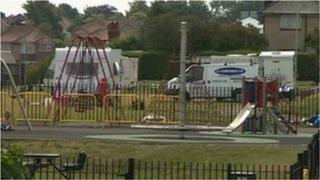 About £230,000 of council money allocated to create temporary traveller sites in Poole will now be used to secure six sites which have seen unauthorised encampments.
Borough of Poole's cabinet approved the recommendation at a meeting on Tuesday night.
It follows the planning committee's rejection of two temporary sites at Creekmoor and Oakdale.
The cash will be used at sites including Whitecliff and Baiter.
The authority said it will not pursue finding temporary sites this summer.
The other sites which the council said would receive "increased protection" are Verity Crescent, Haskells Recreation Ground, Broadstone Recreation Ground and Branksome Recreation Ground.
It said any remaining money would be prioritised at other sites based on their history of unauthorised encampments, their proximity to children's play facilities, usage for sporting activities and tourist attractions.
Andrew Flockhart, acting chief executive of Borough of Poole, said the council was keen for the work to be carried out as soon as possible.
"We will take stock of the situation in the autumn," he added.
A decision on a proposed temporary site at Piddlehinton is expected to be made by Dorset County Council's planning committee on 9 May.