Lit newspaper put in Southampton letterbox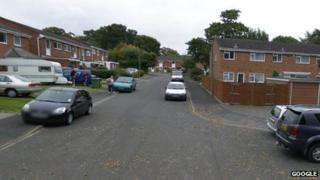 An arsonist attempted to force a lit newspaper through the letterbox of an elderly woman, police have said.
Hampshire Constabulary believes it is linked to a spate of arson attacks on Saturday morning in Southampton.
A spokesman said the paper was "set alight and efforts were made to try and post this through the letterbox [but] fortunately the fire didn't take".
A fence, a for sale board, a bin, a canopy attached to a vehicle and a car wheel were also set alight.
The suspect, who may not have been alone, is thought to have taken a specific route from Lordswood Road towards Robina Green in the Lordshill and Lordswood areas of the city.
Det Con Jonny Hyland said: "We are particularly keen to speak to a person who is believed to have assisted two house occupants by knocking on their doors and telling them that their property was burning.
"We believe this person is a crucial eye witness, and we are very keen to speak to them."