Postal van and its contents stolen in Poole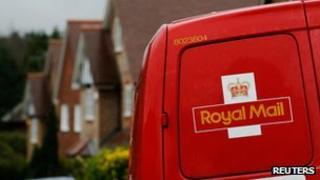 A postal van filled with letters, parcels and packages has been stolen in Dorset.
Thieves took the Royal Mail vehicle while its driver was emptying a postbox on Wolterton Road in Poole on Friday.
Dorset Police said the van contained a "large quantity" of letters, parcels and packages, some bagged in grey, blue or green Royal Mail sacks.
The van was later found by the police helicopter in a nearby business park, but most of the post had been removed.
Only a few letters had been left in it.
The postman did not see who stole the vehicle and police have appealed for witnesses.
PC Tim Gooding said: "I am keen to speak to anyone who saw a Royal Mail van in strange circumstances, during the evening rush hour on Friday.
"In particular, I would like to speak to anyone who saw the vehicle being unloaded around Yarmouth Road or Bourne Valley Road in Poole.
"I would also like to know if anyone has seen discarded postbags, parcels and packages."