Dorchester saleroom sells nurse's World War One medals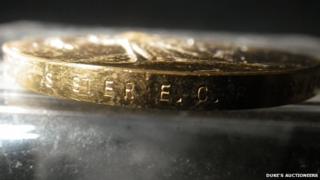 A pair of rare World War One medals have been sold at auction.
The medals are unusual as they were presented to a woman serving as a nurse in France during the conflict.
The Victory medal and the 1914-15 Star are engraved with the name Sister ECP Orchard.
Saleroom manager Phillip Traves, from Duke's Auctioneers in Dorchester, said the medals were purchased by a local collector, who hopes to research the recipient.
He said that although the medals were granted to all military personnel serving in Europe, what makes them different is that there were very few women serving as nurses in frontline positions.
Gallipoli
"They are rare because not many WW1 medals were given to women," he added.
"The collector now wants to research the history of the sister and what happened to her, because the medals were virtually untouched, they were still in the same brown envelope they were delivered in. So did she survive the war or did she actually die?"
The medals, which sold for £260, were discovered by a relative who was clearing a house after its owner died.
Research by the auction house has suggested the medals may have belonged to Sister Emily Caroline Orchard who served in the Queen Alexandra's Imperial Military Nursing Service Reserve. She enrolled on 9 September 1915 and her first posting is listed as Gallipoli.