Dorset offers more funding for storm-hit fishermen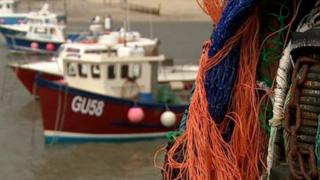 Dorset fishermen affected by the winter storms, are now able to apply for up to £5,000 to replace damaged equipment.
The Fishmongers Company Fund is being administered by the Dorset Community Foundation.
It follows criticism of an EU fund application process for fishermen which Dorset South MP Richard Drax called "a bureaucratic mess".
Commenting on news of the latest fund, he said that "any money the fishermen get is good news".
The Foundation said it would accept applications from Dorset fishermen "whose trade has been severely affected by storm damage" during the period 1 December to 31 March 2014.