D-Day Pegasus Bridge mission leader Major John Howard remembered at service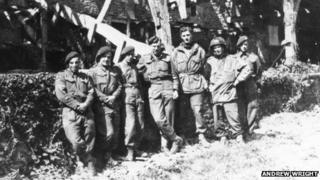 A soldier who led a dangerous mission to Normandy on D-Day was among those remembered at a Dorset service.
Maj John Howard led men from the Oxfordshire and Buckinghamshire Light Infantry to seize Pegasus Bridge over the Caen canal on 6 June, 1944.
Their actions stopped German re-enforcements from being sent to counter the Allied forces' attack.
His brother Roy Howard, 82, attended the service at the former RAF Tarrant Rushton base on Sunday.
Maj Howard, whose men also captured Horsa Bridge over the River Orne, died aged 86 in 1999.
'Key to success'
The service remembered three D-Day operations flown from RAF Tarrant Rushton.
Organiser Dennis Hart, who worked on jet aircraft at the airfield during the 1950s, said: "The operation to seize the Orne river and Caen canal bridges just 20 minutes into D-Day, 1944, was key to the success of the Allied invasion of the Normandy beaches."
He added: "It is important to hold a service of commemoration to not only mark Tarrant Rushton airfield's important role in the D-Day invasion of France but also say thank you to the brave men who flew from the airfield to start the liberation of Nazi-occupied Europe - many of whom did not come back, losing their lives in the fight for freedom."
Pegasus Bridge was given its name in honour of the British airborne forces who wore the Pegasus shoulder emblem.