John Smart miniature sells for £30,000 in Dorchester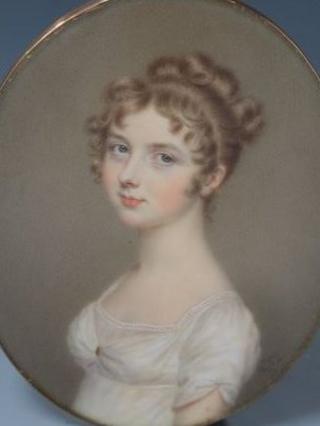 A miniature portrait has sold for almost £30,000 at an auction in Dorchester.
The 3.5in (8.9 cm) painting of a Regency woman by John Smart sold for more than three times its estimate at Duke's Auctioneers.
Staff said the watercolour and ivory picture is special because the identity of the sitter is known.
The portrait was bought by a London gallery.
Auctioneer Amy Brenan said staff were not surprised at the amount of interest the sale attracted.
She said: "Although John Smart was a prolific miniaturist, you don't often see his work at auction."
The portrait is of 19-year-old Annie Chambers, the youngest daughter of Sir Robert Chambers who was chief justice of Bengal, India. Her mother was Frances Wilton, who was the daughter of sculptor and founding member of The Royal Academy, Joseph Wilton.
The miniature is signed with the initials J.S and dated 1807. It was purchased for £29,280.
Ms Brenan said: "It is often really difficult to know who has painted a miniature and who it is of. So to be able to see the artist's initials and know who she was and a little bit about her adds another element to it."