Portland Harbour shellfish 'no longer a risk'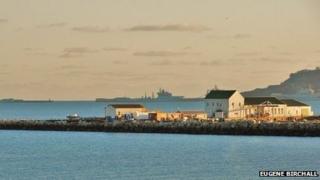 The harvesting of scallops, oysters and mussels has been reinstated at a Dorset harbour.
Portland harbour closed last month for the gathering of filter feeding molluscs, after mussels were found to contain high levels of a toxin.
Weymouth Port Health Authority said it was satisfied sampling results now showed "molluscs no longer exceed the maximum permitted level".
The toxin, Amnesic Shellfish Poisoning (ASP) can be a risk to public health.
If consumed in "sufficient quantity" it can cause neurological symptoms, such as dizziness, and in "very rare cases" death, the port health authority said.
Sainsbury's, which previously halted supplies of king scallops being sourced from the area, said it had now resumed supply after its own tests were "all clear".
Chief port health officer Nigel Emery said the harbour was not a commercial scallop area - these are off the Lulworth Banks and at Lyme Bay.
He said whole scallops in these areas continued to show high levels of ASP, but added those which had undergone "shucking" - the removal of the white meat and roe under controlled conditions - showed "well below" permitted levels.