Sandbanks ferry chain broke as cross-channel ship passed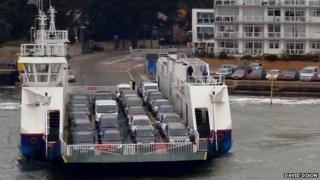 The car ferry across the entrance to Poole Harbour has been suspended because one of the chains guiding it broke as a cross-channel ferry passed.
The Sandbanks Ferry, linking Poole to Studland, was halted before 07:00 BST.
The cause of the break has not been confirmed but Brittany Ferries said it occurred as the Barfleur passed at 06:25 BST, during low tide.
Bournemouth-Swanage Motor Road & Ferry Company said it would not resume until Thursday afternoon at the earliest.
Brittany Ferries confirmed that the Barfleur, which operates between Poole and Cherbourg, was passing through the entrance of Poole Harbour when the chain broke.
The company said divers would be inspecting the hull while the ship was in Cherbourg.
'27-mile alternative'
A spokesman said: "As the Barfleur passed at 06:25 this morning the chain broke. It's still an ongoing investigation - we have divers going to look at the underside of our vessel this afternoon but it is a possibility that our ship cut one of the chains."
The chain ferry, called Bramble Bush Bay, takes four minutes to make the crossing from Sandbanks to Shell Bay. The shortest alternative road route from shore to shore is 27 miles.
The Bournemouth-Swanage Motor Road and Ferry Company was formed in July 1923 following an Act of Parliament.
Bramble Bush Bay is 242ft long (74m) and can carry up to 48 cars.
It normally makes three return crossings an hour between 07:00 and 23:10.
The alternative route takes drivers around Poole Harbour via Upton, Wareham, Corfe Castle and Studland.