'No damage' on ship after Sandbanks ferry chain breaks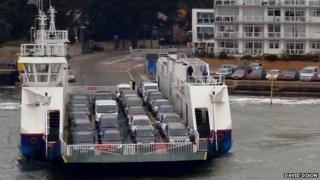 A cross-channel ship that passed a Dorset chain ferry at the same time its guide chain broke showed no sign of a collision, its operators said.
The Sandbanks Ferry, which crosses the mouth of Poole Harbour, has been out of action since one of its chains broke early on Wednesday.
Brittany Ferries initially said its ship, the Barfleur, may have clipped the chain as it passed at low tide.
It said a subsequent inspection by divers showed no sign of an impact.
The Marine Accident Investigation Branch (MAIB) is investigating.
Brittany said divers inspected the Barfleur, a French-registered roll-on/roll-off car ferry, at Cherbourg on Wednesday afternoon but found no damage.
The Bournemouth-Swanage Motor Road and Ferry Company said it was hoping to get the chain ferry back in service by Thursday afternoon.
The vessel, called Bramble Bush Bay, takes four minutes to make the crossing from Sandbanks to Shell Bay. The shortest alternative road route from shore to shore is 27 miles.
The Bournemouth-Swanage Motor Road and Ferry Company was formed in July 1923 following an Act of Parliament.
Bramble Bush Bay is 242ft long (74m) and can carry up to 48 cars. It normally makes three return crossings an hour between 07:00 and 23:10.