Dorset County Museum expansion plans unveiled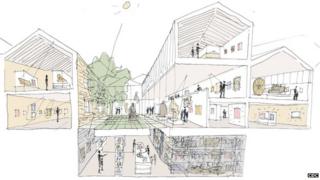 Plans for a £13m development at Dorset County Museum have been unveiled.
The proposals include a "discovery centre" as part of an extension to the 19th Century museum in Dorchester.
The museum's collection is made up of prehistoric finds, as well as Roman artefacts and the archive of the writer Thomas Hardy.
Curator Dr Jon Murden said it was in "intensive negotiations" with the Heritage Lottery Fund to secure finance for the scheme.
The museum, owned by the Dorset Natural History and Archaeological Society, is one of the oldest privately-owned attractions of its kind.
The extension to the Grade-I listed building in High West Street would allow the society's full collection, some of which is currently in storage, to be brought together for the first time.
It would also provide facilities for other museums in the county to safely store artefacts.
'Root and branch'
Also included in the development are plans to conserve John White's Rectory in Colliton Street.
Appointed rector in 1605, he led one of the earliest fleet of ships that sailed across the Atlantic to form a colony in Massachusetts.
Dr Murden said the plans represented a "root and branch" redevelopment of the museum which attracts about 45,000 visitors a year.
"Rather than sticking another bit on and compromising, actually we're going to be looking for a lot of money whatever we do, so let's be ambitious about it," he said.
He said other "fall-back" positions had been identified to allow the development to be done in stages if the full £13m was not raised.
"There is some serious competition, but in terms of the value for money and the impact that investment would have for Dorset, it would be transformative."