Hambledon Hill fort in Dorset acquired by National Trust for £450,000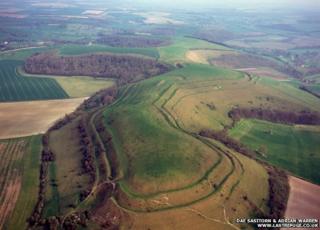 An Iron Age hill fort has been bought by the National Trust for £450,000.
Built more than 2,000 years ago, Hambledon Hill, near Blandford Forum in Dorset, rises to 190m (620ft).
Money to buy the hill fort came from a Natural England grant and a legacy gift left to benefit Dorset countryside.
The National Trust said it bought the site to secure its future and continued access for the public. It is the seventh hill fort in the county acquired by the trust.
Hill forts
They were built as fortresses and were often surrounded by deep ditches and large walls or ramparts.
Some provided secure living space for large numbers of people, whereas others may have been empty refuges or used for religious ceremonies and celebrations.
They are found in different parts of Iron Age Britain, including southern England, the Welsh borders and southern Scotland.
Archaeological excavations at hill forts such as Maiden Castle in Dorset and Danebury in Hampshire continue to provide important evidence for the study of Iron Age life and society.
Source: British Museum
Hambledon is the first hill fort acquired by the trust in Dorset for 30 years and joins its other sites including Hod Hill, Lamberts Castle, Badbury Rings and Pilsdon Pen.
It had been owned for the past 30 years by conservational charity Hawthorn Trust, which was looking to sell, and was managed by Natural England as a National Nature Reserve.
Jerry Broadway, a National Trust volunteer working on Hambledon Hill, said: "When I come here I feel like someone would when they go into St Paul's Cathedral.
"When there is no-one else around and I sit on the top of the hill looking at the view I feel very privileged. And to play a small part in looking after the hill is a good feeling."
The nationally-important chalk grassland is also home to at least five species of orchids, while 28 species of butterfly have been recorded at the site over the years.
From its summit visitors can see across three counties - Dorset, Somerset and Wiltshire.