Boscombe raids: Police hunt five drugs suspects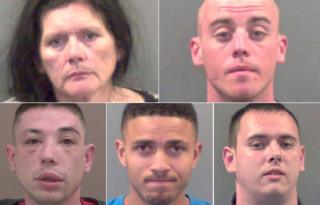 Police are hunting five suspects following drugs raids over three days.
Officers want to speak to Adam Hamed, 20, from Liverpool, Shane Peter Smith, 25, and Adam Larkin, 27, both from Bournemouth, Christopher York, 23, from London and Tracey Archer, 48, of no fixed abode.
A total of 34 people were charged after the raids in the Boscombe area of Bournemouth last month.
In a separate incident police uncovered cannabis worth £270,000 in Boscombe.
The four men are wanted for drugs offences and Tracey Archer is wanted for failing to return to the police station having been released on bail following her arrest.
Bournemouth East Neighbourhood Inspector Chris Weeks said the suspects were not considered to be dangerous, but warned the public not to confront them.
Two men aged 41 and 21 were arrested on suspicion of drugs offences after 541 cannabis plants were found on Tuesday in South Road, Boscombe, in a separate raid.
The 41-year-old from Christchurch was bailed and the 21-year-old from an unknown address is in custody.