Bournemouth EDL march attracts counter protest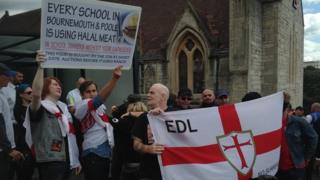 Hundreds of people have gathered in Bournemouth for a march organised by the English Defence League (EDL) and a counter protest by its opponents.
The EDL said about 200 supporters attended and handed out leaflets to passers-by.
The TUC said hundreds also gathered for the "We Are Bournemouth" anti-EDL protest.
Officers from four neighbouring forces were drafted in to help police the protests.