Wareham landfill site reopens after three-day blaze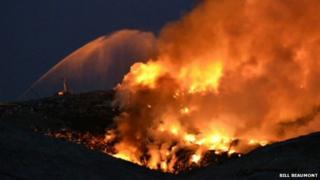 A landfill site in Dorset has reopened following a blaze which took firefighters three days to put out.
A fire started at Viridor's Trigon landfill site off Bere Road, near Wareham, on the afternoon of 31 August.
The waste management company said investigations provided no conclusive evidence of how it started.
However, it said it was likely to have been caused by flammable or combustible waste, such as a barbecue, being put into a general bin.