Dorset County Council 'were aware' of school caterer kitchen fire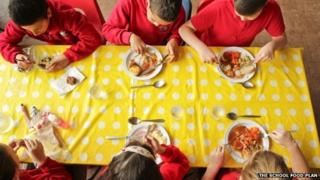 A council knew about a fire in a caterer's kitchen months before it led to children not receiving cooked school meals, it has been revealed.
Infant pupils in east Dorset were without hot meals at the start of term earlier this month after a fire in the kitchen of contractor Chartwells.
The county council has said it had known about the incident since 17 June.
But it said Chartwells gave "assurances" it could provide cooked foods using a temporary kitchen.
Chartwells has yet to comment.
All pupils at 16,000 infant schools across the country are now entitled to free school meals.
The council said 23 schools in the county would continue to receive packed lunches until October half-term, while Chartwells prepared its replacement kitchen.
'Let down badly'
Annette Brooke, MP for Mid Dorset and North Poole, criticised the council's handling of the case.
"Head teachers, teachers, parents and pupils have been let down badly with a potential long-term impact on uptake of school meals impacting on children's attainment, health and social skills," she said.
"Where were the scrutiny and the monitoring processes? Where were the contingency plans?"
The council said the fire happened on 14 June and it was notified by Chartwells on 17 June.
After the fire, it provided Chartwells with a temporary kitchen at Bovington Park.
A council spokesman said: "What we did not know until schools rang into complain was that Chartwells was not able to deliver the service we expected using the temporary facilities we had provided."